Gingerbread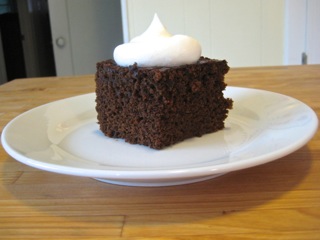 Preparation time: 15 minutes
Baking time: 50 minutes
---
Ingredients
For Single recipe (serves 4 to 6)
1 greased 9x9x2-inch square pan
Ingredients To Be Creamed:
½ cup butter, softened (1 stick)
⅓ cup packed brown sugar
Moist Ingredients:
1 egg
1 teaspoon vanilla
1 cup molasses
Dry Ingredients:
2⅓ cups all-purpose flour
1 teaspoon baking soda
1 teaspoon ground ginger
1 teaspoon ground cinnamon
¼ teaspoon ground cloves
¼ teaspoon salt
Boiling Water:
Topping:
Instructions
Preheat oven to 325°.
Grease pan and set aside.
Cream butter and brown sugar until light and fluffy.
Add egg(s) and vanilla and beat until just incorporated. Scrape sides of bowl as needed.
Add molasses and beat in.
Add dry ingredients. Beat in with mixer on low speed. Once the dry ingredients have been incorporated, turn mixer up to medium speed and beat for one minute.
Add boiling water.
Mix in very gently on lowest setting until incorporated then turn mixer up to medium and beat for 30 seconds.
Pour batter into prepared pan.
Bake until a wooden toothpick inserted in center comes out clean, about 50 minutes.
Serve with optional Whipped cream.
Categorized in