Oven Beef Stew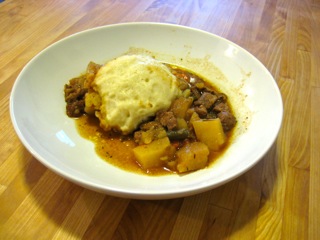 Prep time: 30 minutes
Meat browning: 15 minutes
Baking time: 2¼ hours
Dumpling time: 10 minutes
Total time: 3 to 3½ hours
---
Ingredients
Beef Ingredients:
¼ cup flour
1 teaspoon salt
¼ teaspoon black pepper
1½ pounds boneless beef chuck roast, or top sirloin, cut into ¼ to ½-inch cubes
2 tablespoons safflower or oil of your choice
Vegetables and Broth:
1 onion, chopped
3 cloves garlic, minced
3 carrots, peeled and sliced
3 red potatoes, peeled and cut up into small cubes
4 cups beef broth
One 14½-ounce can stewed tomatoes, cut up
½ bag frozen green beans or ½ bag frozen green peas
Spices:
1 teaspoon dried thyme
½ teaspoon dried rosemary
¼ teaspoon dried sage
1 tablespoon Worcestershire sauce
Salt and pepper to taste
Dumplings:
Instructions
Preheat oven to 350°.
In a large resealable plastic bag, combine flour, teaspoon salt and ¼ teaspoon black pepper.
Add beef cubes to plastic bag. Seal and shake to bag to coat beef with flour mixture.
Heat oil on medium-high heat in a Dutch oven.
Add onion and garlic and cook until onion is starting to brown.
Add meat and garlic. Cook on medium-high heat until meat is browned.
Add carrots, potatoes, broth, tomatoes, green beans, thyme, rosemary, sage, Worcestershire sauce, and salt and pepper.
Bring mixture to a simmer on the stovetop.
Cover and transfer pot to oven.
Bake for 2¼ hours.
Categorized in