Pumpkin Chiffon Cake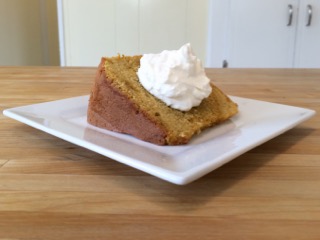 Preparation time: 20 minutes
Baking time: 60 minutes
Cooling time: 1½ hours
---
Ingredients
Tube Pan:
1 ungreased 10-inch tube pan with a removable bottom
Dry Ingredients To Be Sifted:
2¼ cups cake flour (or 2 cups flour)
1¼ cups sugar
1 tablespoon baking powder
1 teaspoon salt
1½ teaspoons ground cinnamon
¾ teaspoon ground ginger
½ teaspoon ground nutmeg
¼ teaspoon ground cloves
Moist Ingredients:
5 large egg yolks
1¼ cups pumpkin puree
½ cup vegetable oil
1 teaspoon vanilla
Egg Whites:
8 large egg whites
½ teaspoon cream of tartar
¼ cup sugar
Optional Nuts:
¾ cup finely chopped walnuts
Toppings:
Instructions
Preheat oven to 325°.
Have ungreased 10-inch tube pan with a removable bottom ready.
Sift dry ingredients into a large work bowl, set aside.
Separate the 8 eggs, saving 5 egg yolks to a large work bowl.
Place 8 egg whites in a separate work bowl and set aside.
Beat on high speed, the 5 egg yolks, pumpkin, oil, and vanilla until smooth.
Add the dry ingredients to the pumpkin mixture and beat on low until smooth; set aside.
Add ½ teaspoon cream of tartar to the the bowl with the 8 egg whites.
Beat together the egg whites and cream of tartar until soft peaks form.
Beating on high speed, gradually add the ¼ cup sugar to the egg white mixture.
Beat the egg white and sugar mixture until the peaks are stiff but not dry.
Use a rubber spatula to fold ¼ of the egg whites into the pumpkin mixture.
Fold in remaining whites.
If adding nuts, gently fold into batter.
Scrape the batter into the tube pan and spread evenly.
Bake until the top springs back when lightly pressed and a toothpick inserted in the center comes out clean; 55 to 65 minutes.
Cool upside down for at least 1½ hours. If your tube pan does not have feet, place the tube over a bottle neck and rest the pan on 4 glasses.
Using a straight, long metal spatula or knife, gently loosen the cake from the edges of tube pan.
Place the flat "bottom" part of the tube on a flat surface.
Using the metal spatula or knife, loosen the cake from the flat part of the tube.
Place a serving platter over the tube and invert the cake onto the platter.
Glaze with Creamy Glaze or serve with whipped cream or vanilla ice cream.
Categorized in
Recipe from Joy of Cooking, by Irma S. Rombauer, Marion Rombauer Becker, and Ethan Becker. New York: Scribner (1997).