Carrot Cake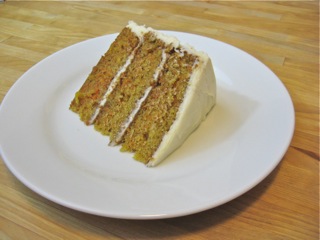 Preparation time: 20 minutes
Cooking time: 40 minutes
Cooling Time: 60 minutes
Frosting Time: 15 minutes
Total time: Approximately 1 hour 35 minutes
---
Ingredients
Moist Ingredients and Sugar:
4 eggs
2 cups sugar
1 cup oil
1 teaspoon vanilla
Carrots and Pineapple:
2½ cups peeled and shredded carrot (approximately 2-4 large carrots)
½ cup crushed pineapple with juice
Dry Ingredients:
2 cups flour
1 teaspoon baking soda
1 teaspoon baking powder
½ teaspoon salt
1 teaspoon ground cinnamon
¼ teaspoon ground nutmeg
¼ teaspoon ground cloves
¼ teaspoon allspice
Optional Additions:
1 cup coarsely chopped walnuts
¾ cup raisins or currants
Frosting:
Instructions
Preheat oven to 325°.
For a 3-layer cake grease and flour three round 8-inch pans. For a 2-layer cake grease and flour two round 9-inch pans. For rectangular cake grease and flour a 13x9x2 oblong pan.
Click here for instructions on how to prepare cake pans for baking.
Mix eggs, oil, and vanilla for 2 minutes on medium-high speed.
Add shredded carrot and pineapple; mix until combined.
Add dry ingredients to work bowl. Fold into moist mixture on low speed. After it has been folded in mix on medium speed for 1 minute.
Mix in optional nuts and raisins or currants.
Pour batter into prepared cake pans.
If you are making three 8-inch round or two 9-inch round cakes bake 35 to 40 minutes, or until a toothpick inserted in the center of the cake comes out clean.
Cool on a rack for exactly 10 minutes; turn the cake out of the pans and cool on a rack for another 30 minutes to 1 hour.
Click here to see how to how to remove cakes from pans.
Cool completely on a rack before frosting.
If you are making an oblong cake bake 35 to 40 minutes. Leave the cake in the cake pan and cool completely on a rack before frosting the top.
Categorized in